This course provides important information about aquatic invasive species and new program requirements for anyone who plans to boat on Whatcom County waters. It is easy to complete, it helps you become a more responsible boater, and it might save you some time when launching at Whatcom County lakes. The online course will take you about 30 minutes to complete.
*COVID-19 Update: Due to our new safety protocols, all permits must be purchased online ahead of time. No cards or checks are accepted at the check stations. Our online system is unable to verify discount codes so we have applied a COVID-19 discount to all permits before purchase.
For non-registered, non-motorized watercraft (hand-carried watercraft such as canoes and kayaks) this means there is no payment required. A permit will be issued to your vessel once it passes its initial inspection for the year.
We are unable to apply any additional discounts for taking the online AIS Awareness Course at this time.
Monitoring AIS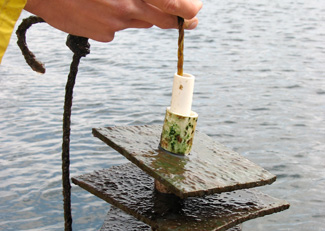 Checking an artificial substrate for adult zebra/quagga mussels at Lake Whatcom