Inspectors are on the lookout for any animal or plant material on the watercraft that may pose a risk to Whatcom County waters. The inspector will ask you several questions about your boat and launching history and will then visually and physically inspect your boat for any evidence of aquatic invasive species. The hull, trailer and interior compartments of your boat will be inspected. Inspectors will be ensuring that your boat has been cleaned, drained, and dried to ensure that aquatic invasive species larvae are not present on damp gear or in standing water.
Preparing Your Boat
You can make the inspection a quick and simple process by making sure your boat is clean, drained, and dry before arriving at the inspection, and removing any gear or equipment from internal compartments ahead of time. More about preparing your boat.
Launching at Lake Whatcom or Lake Samish Multiple Times
Boats launching from a location with an Aquatic Invasive Species Check Station will need to be inspected every time they launch unless they have been tethered using a Lake Whatcom Management Program wire seal. If you plan on returning to the same lake on your next visit, ask an inspector about our Wire Seal Program to speed up your next launch.
New Boat? Schedule an Inspection
We're witnessing a surge in Whatcom County residents who have recently purchased a new or used boat. Many of the used watercraft are coming from mussel infested waters. If you recently purchased a boat, call ahead at (360) 778-7975 to schedule your Aquatic Invasive Species (AIS) inspection (and possible decontamination) and avoid delays at the launch. Thank you for helping protect our local waters from aquatic invasive species!
Did you know?
Boat motor labels must have at least one star to operate on Lake Whatcom and Lake Samish. Low emission motors are the right choice for you and the lake. Check for the star on your label to make sure your watercraft is powered by an engine that is certified and labeled as meeting the 2006 or later model year United States EPA emissions standards.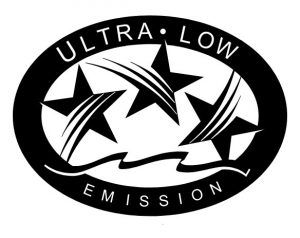 Planning an event?
You may qualify for a special event pass for Lake Whatcom or Lake Samish.  For more information or to find out if your event qualifies, contact the Boat Inspection Hotline at 778-7975