What are they?
New Zealand mudsnails (Potamopyrgus antipodarum) are very small (<5mm) snails that are native to New Zealand and have long been established in Australia, Asia, and Europe. New Zealand mudsnails tolerate a wide range of salinity levels, temperatures and water quality conditions.
Are they here yet?
On September 10th, 2018, New Zealand mudsnails were confirmed in Lake Padden. This is the first time these snails have been detected in Whatcom County.
This species was first discovered in North America in 1987 in the Snake River in south-central Idaho. Since that time, the snails have spread throughout many western rivers. New Zealand mudsnails are found in Washington State in the Lower Columbia River, Long Beach Peninsula, Capitol Lake in Olympia, in at least three tributaries of Lake Washington, and in the Chehalis and Snohomish Rivers.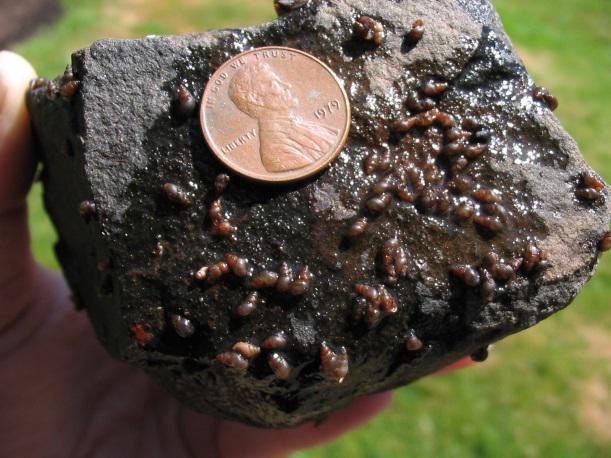 Why should you care?
These snails are very small – about the size of a grain of rice – and because they are so small they can be transported very easily on boats and equipment such as boots, waders, tackle, etc. They can seal themselves off to prevent exposure and are able to survive out of water for long periods of time. While they are not considered a primary food source, New Zealand mudsnails can also pass through the digestive system of fish and waterfowl unharmed! They can also be transported on the feet of waterfowl and other animals.
New Zealand mudsnails reproduce by cloning, so it only takes one snail to start a new population. That one snail reproducing can exponentially increase the population by 12 million in just three seasons! This means that these snails can achieve densities of more than 100,000 snails per square meter. They outcompete native snails and insects that other species depend upon for food.
To prevent their spread to other Whatcom County waters, you should clean and dry everything that comes into contact with water, even the family dog! Thoroughly brush off any debris from waders, boots, and equipment and wash gear in hot water (140°F), or freeze overnight.
Report Sightings: Report online
More Resources:
Map: Current Distribution (USGS)
Did you know?
In 2013, officials lowered Capitol Lake during a weeklong cold snap to successfully kill off half of the invasive New Zealand mudsnail population that was discovered in the lake in 2009.