Aquatic invasive species have the potential to negatively impact recreational fishing waters by limiting access to good fishing spots, reducing the size and weight of fish, reducing catch rates, increasing fish kills, and causing damage to boats and equipment.  Whenever you fish, you have the potential to transport aquatic invasive species to or from the area where you are fishing. Your gear, clothing, and boat can all act as pathways for transporting aquatic invasive species.
CLEAN
Remove all mud, dirt, sand and all visible plants and animals from:
nets
fishing rods and reels
fishing line
lures
creels
buckets
boots/shoes/waders
boat and trailer
props
trolling motor
wading stick
downriggers
anchors
ropes
and any other items used in and around the water
DRAIN
Eliminate water from all equipment before transporting it. Do not wash your boat or gear or drain them near a storm drain. Most storm drains flow directly into lakes and other waters.
DRY
If any area of any equipment, clothing, boat, or trailer is moist, it can harbor aquatic invasive species for a long period of time. Allow sufficient time for all of your equipment to dry before you go fishing again, especially if you have used your equipment in infested waters.
DISINFECT
If you cannot allow a sufficient amount of time for all of your equipment to dry between uses, it is recommended that you disinfect your gear using a salt or vinegar solution.
Do not release fish into a body of water unless they came out of that body of water.
Visit the Washington Department of Fish and Wildlife website for more information on fishing regulations and seasons.
Remember Discover Pass!
Discover Passes are required when launching at the Lake Samish WDFW Boat Launch and the Lake Whatcom South Bay WDFW Boat Launch.
Vegetarian Piranha
In 2013, an exotic Pacu (known as the vegetarian piranha) was discovered by an angler at Lake Ki, northwest of Marysville. Pacu can grow up to three or four feet long and, like their cousins, have big teeth!
Did you know?
In 2012, a northern snakehead was caught in a pond in Burnaby, B.C.. Native to China. Snakeheads are highly invasive, grow to several feet in length, and have rows of sharp, pointy teeth.
Did you know?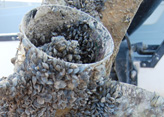 If the Columbia River Basin were to become infested with zebra or quagga mussels it would result in annual costs of $26 million.