Station Updates:
Inspection stations at Bloedel Donovan, Sudden Valley, and Lake Samish will be opening for the season on April 24th. South Bay inspection station to open on May 2.
Check below for current hours of operation and scheduled openings for each inspection location. Hours of operation are subject to change due to inclement weather and staff availability.
If you have multiple watercraft requiring inspection or if you are unable to trailer your watercraft to a check station, please call (360) 778-7975 to schedule an on-site appointment.
*COVID-19 Update: Your safety and the safety of our boat inspection staff are our top priority. You should expect new safety and inspection procedures when visiting our check stations based on state guidelines related to COVID-19.
Permits must be purchased online ahead of time. You will receive your permit after your vessel passes inspection.
Expect delays. We are taking steps to ensure your safety!
Wear a face covering.
Practice social distancing and stay at least 6 feet away from inspectors and other boaters.
Please remember to clean, drain and dry your boats and gear in between lakes and rivers to prevent the spread of aquatic plants and animals.
Inspection Locations
City of Bellingham – Public Works – Natural Resources
2200 Nevada Street, Bellingham, WA 98229
Inspections by appointment.
Bloedel Donovan Park Boat Launch
2214 Electric Ave, Bellingham, WA 98229
Open 7 days a week, 5:15 a.m. – 9:00 p.m.
Note: Construction of the Swim Docks at Bloedel begins on June 1st. Expect launch delays. There will be limited access to the launch ramps and no parking available in the lower lot while work is conducted. The overflow field is currently open for trailer parking. Work is expected to be completed by mid-June. Three lanes will be available for launching/retrieving over the weekend.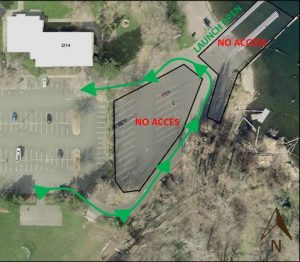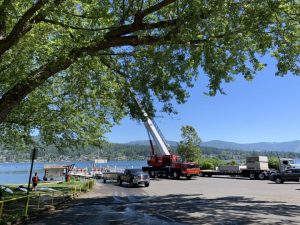 Lake Whatcom South Bay WDFW Boat Launch
South Bay Drive, Sedro-Woolley, WA 98284
Starting May 2nd: Open on weekends from 10 a.m. to 5 p.m.
Lake Samish WDFW Boat Launch
East Lake Samish Drive, Bellingham, WA 98229
Open 5:30 a.m. – 7:30 p.m., Thursday through Monday. Open 10:30 a.m. – 5:30 p.m., Tuesday and Wednesday.
Sudden Valley Marina
Gate 1, 20 Marina Drive, Bellingham, WA 98229
Private marina for member/resident use only.
Open on weekends starting on Saturday, April 24th, from 9 a.m. – 4 p.m.
Lutherwood Camp and Retreat Center Boat Launch
1185 Roy Road, Bellingham, WA 98229
Private launch for camp and retreat center visitor use only. Inspections by appointment.
Current watercraft inspection fees
Whatcom Boat Inspection Program (For questions or to schedule an appointment on-site): 778-7975
Did you know?
Zebra and quagga mussels were first found in Lake Mead in 2007. They were probably introduced by a boat coming from the eastern United States.